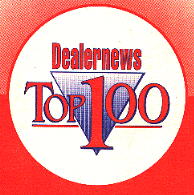 January, 1999
Dealernews Magazine "The Voice of the Powersports Vehicle Industry" names Encore Performance and Fabrication as one of the Top 100 powersports dealerships in the nation. The eighth annual contest recognizes dealerships for innovative merchandising and display techniques, and E.P.&F was chosen as a winner in the category "Best Use of Space".
"Your impressive store layout and design makes Dealernews proud to recognize your dealership as a leader in the industry. We applaud your entrepreneurial spirit and enthusiasm!"
John F. Murphy, Dealernews publisher,


March 1999: Jim Knaup and Encore Performance & Fabrication are featured in a cover story in Dealernews Magazine. Since Dealernews is an industry trade magazine, it is not available to the general public, we scanned the article and put it on this site - follow the links below:

February 2000: Encore Performance Named among "Top 100" second year in a row!

February 2001: Encore Performance Named among "Top 100" and receive inaugural "Editors Choice Award" from Dealernews!

February 2002: EP&F is a four time "Top 100" winner!


Main Page <> New Bikes <> Used Bikes <> Thrasher <> Parts <> Other Stuff <> Good Stuff
New Stuff <> Archival Stuff <> Sidecar Stuff <> Lots O' Links <> Order Info
epfguzzi@epfguzzi.com