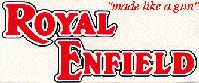 Please Note: This page is is becoming obsolete.... all our Enfield information is moving to:
http://www.4bullets.com
check it out!


Encore Performance & Fabrication (E.P.&F.) is a fully licensed and bonded motorcycle dealer in Prescott, Arizona, U.S.A.
Our phone number is 520 778 7910, Fax 520 771 0504
We have a toll free order line (888 EPF MOTO) and accept Mastercard and Visa.
We can also be reached by e-mail
We can be found at; 355 Henry St., Prescott, AZ 86301... a great ride from anywhere!
Shop Hours 10:00 AM - 5:30 PM Tuesday - Friday, 8:00 - 2:00 Saturday, Mountain Standard Time
Our fascination with the Royal Enfield Bullet: While we are known as nuts for Moto Guzzi, and their big Italian twins, we have have an undeniable soft spot for thumpers. Clean, lean, and easy to master, the Bullet represents an excellent entry level bike that stands out in a crowd.

New Royal Enfield Bullets are still made in India, based on the designs and tooling which were developed in Great Britain in the fifties. While these motorcycles have recieved updates over the years, and are U.S. D.O.T. legal, they still have the classic style of a decades old British thumper.

E.P.&F. is a fully authorized dealer for Royal Enfield Motorcycles, and we stock a full range of motorcycles and parts, as well as accessories for the Bullet. We will be updating these pages with more pictures and information soon, so be sure to check back!


New! Check out the REBEL* page
*Royal Enfield Bullet Enthusiasts Listserve



New! E.P.&F. Tools and Accessories pages specific to Enfield Bullets

New Bullets for sale: listed on E.P&F's New Bikes page

Royal Enfield Links: E.P.&F.'s Enfield links

Encore Performance & Fabrication
355 Henry St.
Prescott, AZ 86301
USA
888 EPF MOTO (373 6686)
520 771 0504
Fax 520 771 0504


Main Page <> New Bikes <> Used Bikes <> Thrasher <> Parts <> Other Stuff <> Good Stuff
New Stuff <> Archival Stuff <> Sidecar Stuff <> Lots O' Links <> Order Info
epfguzzi@primenet.com
888 EPF MOTO (3736686)