No matter how much I wished it wouldn't happen, all good things must come to an end. This round at Firebird marked the end of the 2006 season for Road Race Southwest and Encore Performance Racing. I was looking forward to getting back on the main track and redeeming myself from last month. I knew I could put in a better showing than I did. I would not be racing at 100% health this weekend, but pretty darn close. As it turns out I had broken my thumb at the last round and it was starting to feel back to normal. Although it was still a little sore when it came time to put my gloves on. I knew that once I got on the track all the pain would disappear.
There were a few changes to make and one fix to perform on the bike before this round. The right hand engine cover had started to seep a small amount of oil the last round. We tried to JB Weld the exterior in the pits the last round (we noticed a hairline crack around one of the mounting points for the water pump) but it did not fix the problem. Back at the shop I pulled the cover off and discovered the crack was indeed the problem, but it needed to be fixed from the inside. It seems that my many crashes on the right side of the bike this season had taken its toll on the mounting point for the water pump and caused it to crack. I JB Welded the inside of the case and reinstalled. Problem fixed!
The only modification to the bike this month was to replace the front sprocket with a smaller one. I sent the sprocket off to Sprocket Specialists and they were able to match it up for me. Of course I waited until the last minute, but Sprocket Specialists came through and got the new sprocket to me with a day to spare. I was hoping the new sprocket would help my drive out of some of the slow corners on the main track. There are a couple of corners where I could possibly shift into 1st but it would be much quicker if I could leave it in 2nd and maintain higher RPM's at the same time. The only other change made to the bike was to back off the pre-load on the rear shock a couple of clicks. Mainly just an experiment to see if I could tell a difference.
This month, Mark Weiss had organized a vintage race on Sunday. Open to pre 1980 machines, with the only other qualification being they had to pass CCS tech. I had always wanted to put my 1965 Benelli on the track so I set about to get her ready. The only modification needed was the addition of a belly pan. As usual I waited until the last minute and Will and I started shaping the pan out of a sheet of Tin on Wednesday night. The basic shape was done by Thursday and Will spent most of the day cursing me and my crappy Bondo job as he sanded away trying to make it presentable. Amazingly enough it turned out looking OK from about 10 ft away, and the paint even matched!!
I had been trying to talk anyone I could into coming out to the track for a trackday or to start racing and it finally paid off. Joe Devine a.k.a Joe Dirt, Dirt, or Dirty Joe, finally caved in and decided to take the new racers clinic on Saturday. We caravanned down on Friday night and got to the track in time to watch the locals run their weapon of choice down the dragstrip. Some were pretty fast (a 10 sec 5.0), some were slow (a 18 sec Chevy Cobalt) and some were just stupid (20 sec Old Chevy Truck). It was entertaining to say the least.
SATURDAY......
morning came too early, as usual. Cars started pulling up to the gates around 5:30 and since I wasn't sleeping too good in the truck anyways, I decided it was time to get up. Damn, it was cold for Phoenix. Joe and I got the pit set up, made it too registration, tech, and the riders meeting without a hitch. I skipped the first practice session for the Hyosung, but decided to go out on the Benelli for a few laps. A few laps turned in to less than one lap as I lost the front end halfway through the first lap and had to limp back to the pits with a broken front brake lever. I parked the Benelli for the rest of the day and concentrated on the Hyosung. I was slowly getting back up to speed, but could not get over my hesitation through Turns 10 and 11, the sight of my highside / broken thumb incident last month. I only managed to get into the 1:19's during practice. Joe seemed to be doing well in his license clinic and was clearly enjoying every minute... I knew he would.
THUNDERBIKE
I got a good jump off the line but was passed into turn one by Jack, Tom, and a guy on a 4 cylinder machine. The first 2 laps 3 of us were stuck behind the 4 cylinder, while Bob got away. I missed a shift on lap 4 coming into turn 1 and had to stand it up to avoid going off the track. By the time I caught back up to the lead group. Jack and Tom had gotten by the 4 cylinder machine. I didn't catch him until the last lap and was able to stay on the outside of him on the final turn and beat him to the line by a foot. It looked like switching out sprockets made a difference on acceleration. Finished in 4th with a fast lap of 1:17.085, nowhere near the 1:15's I ran last month.
GT LIGHTS
I was really looking forward to the GT race, even though it completely drains me, it is good practice. However, fate dealt a different hand. One of the races before the GT was red flagged due to a bad accident at Turn 11. It turns out it was Ray Hymer in the Ultra-Lightweigh Superbike race, and he had to be air-evaced to the hospital. Reports are he is doing OK but suffered a damaged lung, and multiple broken bones. By the time the chopper left, the remaining schedule had to be changed. The GTO was changed to a 20 min race and the GT Lights race was changed to a sprint race. I got a good start but fell back to 4th pretty early in the race. With the sun going down, I didn't push it and just finished the race. Finished 4th. Fast lap of 1:17.418
SUNDAY
LW GP
Got a great start in the GP race, but Wayne carried it deeper into Turn 1 and took the holeshot. I managed to stay in 2n for a couple of laps before Dale got by me on his 250. I stayed in third for a couple of more laps before Tom Boge came through. I knew Doc probably wasn't far behind and I kept my head down and tried to throw down some consistent laps. I saw Doc was catching up to me on the back section. I was still really slow through turns 10 and 11. So my game plan was to carry it deeper and deeper into Turn 1. It worked. I was able to hole Doc off and Dale dropped out of the race on the 8th lap so I finished in 3rd and finally got back into the 1:15's. (1:15.768)
VINTAGE
The vintage race was immediately following the GP. My team had the Benelli waiting for me all ready to go (I've said it before and I'll say it again, I couldn't do this without them, Thanks Guys!) It was really weird getting off a 400 lbs bike with GP left hand shift, to a 200 lbs bike with normal, right hand shift with not brakes. I really didn't want to crash my Benelli again so I just putted around the track and managed to not come in last. It was fun to have the old girl out there.
LIGHTWEIGHT SUPERBIKE
Last race of the year. The gearing really helped my start again but I didn't have the cojones to follow Wayne and Bob into turn 1. I managed to hold off Tom and Doc for almost the entire race, even though I missed a shift at Turn 9 on the 4th lap. Tom got by me on the 5th lap and I wasn't able to close the gap. I held Doc off the remainder of the race and brought it home in 4th. Fast lap of 1:16.660
The Lightweight Class had become a pretty tight knit group throughout the year. We enjoyed each others company and everyone was more than willing to help each other out with parts, tools, tips, or whatever else was needed. I can't imagine a better group of guys to start my racing career with. A couple of the guys won't be coming back next year, so Randy (race director) allowed us to do an extra cool down lap and snap off a couple of pictures. It was good to be out there with them for one final lap. I want to thank everyone who made this year possible (Jim Knaup, Tim and Annette Flood, Will Harlan, Jess Kellerman, Paul and Ryan DeLasaux, Ed Jones, Bob Russell, James Kissinger, Doc Lynch and the rest of the Lightweight Crew. See ya guys next year!!!!!

left to right Tom Boge, Wayne Neilson, Billy Pedro, Ed Jones, "Doc" Lynch, Aaron Weiss, Matt Kellerman, Bob Russell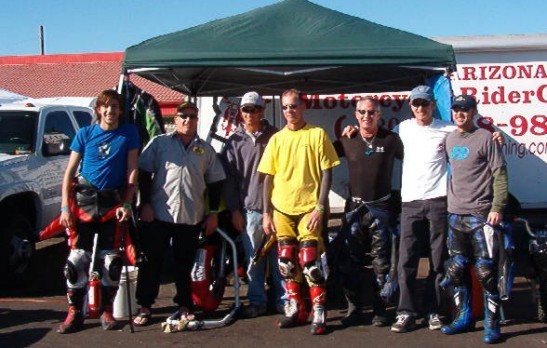 left to right: Aaron Weiss, Doc Lynch, John Jewitt, Wayne Neilson, Ed Jones, Bob Russell, Matt Kellerman