www.epfguzzi.com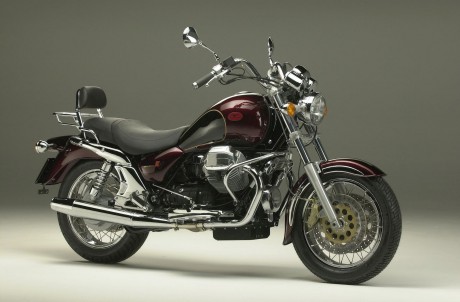 California EV
You couldnít count the miles its wheels have passed over. You couldnít count the horizons it has reached and surpassed, the landscapes it has crossed, or the emotions it has inspired. The Moto Guzzi California is not merely a motorcycle, it is the very symbol of freedom. The California EV has been devouring asphalt all over the world for 20 years. It is heir to a dynasty of exceptional tour companions. Powerful and easy to handle, manageable, safe and ultra comfortable, the best equipped of the entire California line up, the EV is the ultimate expression of a look and a riding style that has made history. The model is continuously evolving through an impressive series of constant technical and aesthetic improvements to keep the spirit of its origins intact while revitalizing it with the latest technology. Yesterday, today and tomorrow, the dreams of bikers will be filled with the unmistakable silhouette of a motorcycle that, twenty years old, has never been so young. The refined colors "Oyster Black" and "Iceberg White," which are enriched by chrome plated motifs on the tank, join the classic "Vintage Red" and black.
Designed with the Street in Mind.
It was the road that put the final touches on the California EV and its design was transformed by every characteristic of the route, each curve and every straight. The large and legendary 90_ V twin needs no introduction. From its inception, it has never ceased to grow technologically, through both minor and major alterations, to improve its performance. High on the list of the California EVís strength has always been its Brembo gold series braking system. Up front are a pair of 320 mm double floating stainless steel discs with four pot piston calipers and on the rear, a 282 mm floating stainless steel disc with a twin pot piston caliper. Its considerable road grip and high-level of comfort are facilitated by the rigidity and smoothness of the 45 mm Marzocchi Telehydraulic fork, adjustable for extension and compression. The rear suspension has two Sachs hydraulic shock absorbers, also adjustable for extension. The new forks, which increases the space available for the tire and the enclosed positive throttle control, increase safety.
Continuous Evolution.
Numerous improvements have been made to keep the California EV young, maintaining all of its fascination while integrating it with progressive technologies. The travel and engagement loads of the gearbox have been reduced to make it faster and lighter, and to make locating neutral easier. The side and center stands have a new design making them even safer and more ergonomic. The California EVís wheel rims make use of the new chrome aluminum channels, new hubs, spokes and nipples, and still allow tubeless tires to be mounted. New instrument panel lights have also been adopted for the EVís instruments, making it even easier to see the motorcycleís operation at a glance. New larger diameter exhaust manifolds are more attractive and maintain the original chrome color over time. The mufflers are now made entirely of stainless steel to ensure greater durability. The chassisís cataphoresis treatment, the new nylon sides and the new flexible support for the instrument panel increase the motorcycleís durability and reliability. Other important details complete the picture, including new brushed aluminum
controls, extremely sturdy handlebars with a 30 mm diameter and new grips that are even more ergonomic.

California EV Technical Specifications
Engine 90_ V-twin, air-cooled
Displacement 1064cc
Bore and Stroke 92mm x 80mm
Maximum Power 74 hp @ 6400 rpm
Maximum Torque 70 ft/lbs @ 5000 rpm
Fuel System Magneti Marelli IAW Multipoint phased sequential fuel injection
Ignition Magneti Marelli IAW electronic digital ignition with inductive spark
Clutch Double disk, dry
Compression ratio 9.5:1
Valves and Operation 2 overhead valves with light alloy push-rods
Starting System Electric
Lubrication Forced lube with geared pump and
pressure regulator
Transmission Primary: helical gears; Secondary: shaft drive
Gear Box 5 speed, constant mesh gears with built-in cush drive
Frame Detachable tubular duplex cradle in special high-strength steel
Caster Angle 29.5_
Wheelbase 61.4"
Seat Height 30"
Front Suspension 45mm telescopic fork, Adjustment: 5.5"
Rear Suspension Swing arm with 2 hydraulic shock absorbers, Adjustment: 3.7"
Electrical System 12V; 14V 25A alternator; 30Ah battery
Braking System Integral braking system with proportioning and delay valve.
Front: two Brembo ORO series stainless steel 320mm floating disc with Brembo 4 piston caliper
Rear: single stainless steel 282mm fixed disc with Brembo ORO series 2 piston caliper
Wheels Front: 2.50 x 18" (tubeless),
Rear: 4.00 x 17" (tubeless)
Tires Front: 110/90 VB18, Rear: 150/70 VB17
Fuel Capacity 5 gallons
Dry Weight 553 lbs.
MSRP $11,990
Technical Specifications are subject to change without notice.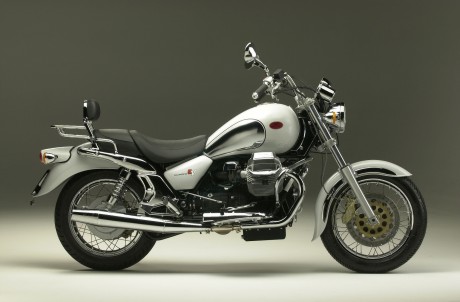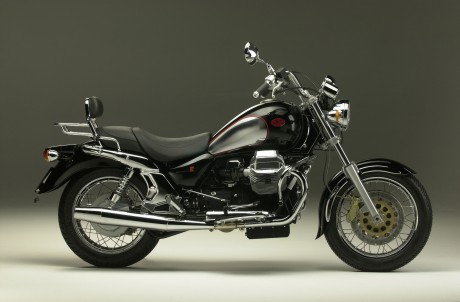 More pictures:
02vrev1.jpg
02vrev2.jpg
02vrev3.jpg
02vrev4.jpg
02vrev5.jpg
02vrev6.jpg
02vrev7.jpg
02vrev8.jpg
02vrev9.jpg



Main Page <> New Bikes <> Used Bikes <> Thrasher <> Parts <> Other Stuff <> Good Stuff
New Stuff <> Archival Stuff <> Sidecar Stuff <> Lots O' Links <> Order Info
epfguzzi@epfguzzi.com
888 EPF MOTO (3736686)