www.epfguzzi.com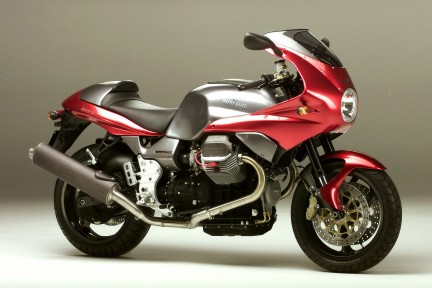 V11 Le Mans
Home to endless racing marathons, and many nights at the wheel with alternating drivers, Le Mans is much more than a place. The name itself is synonymous with a passion for speed and endurance.
Moto Guzziís new V11 Le Mans captures this passion and puts it on two wheels. This machine was born out of the need for performance with greater high-speed driving comfort. With the Model V11 Le Mans, performance remains intact; but the horizons of the driver are expanded. There is greater overall driving comfort, thanks in part to the aerodynamic protection of a half fairing. The traditional Moto Guzzi character and looks remain, but with a greater range for longer trips in style and comfort.
In particular, the engineers at Moto Guzzi have worked to increase stability, with a meticulous tuning of the bikeís steering. In the V11 Le Mans, aerodynamic disturbances do not influence motorcycle performance, affording the driver greater control. Its sporty spirit does not spare a single ounce of comfort.
The Le Mans is powered by the latest version of the V11 90_ V twin engine, with 1064cc cubic capacity and two top valves controlled by rocker arms and push rods. The numbers speak clearly: the 91 maximum horsepower is already reached at 7,800 rpm, for acceleration that satisfies even the most demanding drivers. Maximum speed is approximately 136 mph. The 6-speed transmission has reduced longitudinal overall dimensions (under 70 mm), thanks to the exclusive "four-shaft" system. It features easy and quiet clutch engagement, for immediate sensitivity and confidence. Gear-changing is also quick and precise, through a new mono-plate clutch.
The steel chassis is a Moto Guzzi innovation for 2002, rectangular-section monobeam, with the crankcase performing a semi load-carrying function. Steering deflection precision is guaranteed by the 25_ angle of the steering column. The suspension is high-tech, with a Marzocchi USD in the front, having 120 mm range and compression-extension control.
The rear suspension is a cantilever system oscillating large fork, with adjustable multi-stage shock absorber. In other words: absolute stability and impeccable road grip, thanks also to the distinctive configuration of the universal joint transmission, which reduces to a minimum the rear-wheel "lifting" typical in this technical solution. In addition, a wider rear wheel improves traction and torque delivery to the road.
The wheels are both Brembo alloy rims, 3.5x17" to the front and 5.50x17" to the rear, mounting the latest generation Bridgestone 120/70 2R17 and 180/55 2R17 tires.The braking system is the absolute best, giving total control over performance, with 320 mm twin semi-floating stainless steel discs with Brembo ORO series 4 opposing piston calipers to the front, and a 282 mm stainless steel disc with Brembo ORO series 2 piston calipers to the rear.
Available Colors
The design and color scheme of the V11 Le Mans are also new and impressive--the elegant black color of its motor and the front-end forks, the sophisticated sportier designs in LeMans Red and Classic Champagne.



Accessories
A wide range are available, including ballistic cloth tank bag and sport saddlebags, and carbon fiber and aluminum mufflers for competition use. For a full listing of accessories available for the V11 Le Mans, please see our accessories catalog or visit our web site at www.motoguzzi-us.com
V11 Le Mans Technical Specifications
Engine 90_ V-twin, 4 stroke, air cooled
Displacement 1064 cc
Bore and Stroke 92 x 80 mm
Maximum Power 91 hp @ 7800 rpm
Maximum Torque 70 ft/lbs at 6000 rpm
Fuel Delivery Electronic fuel injection
Ignition CDI
Clutch Double disc dry, hydraulic system
Compression Ratio 9.5:1
Valves and Operation 2 overhead valves with light alloy push rods
Starting System Electric
Lubrication Forced
Final Transmission Shaftdrive, ratio 11/32
Gearbox 6 speed
Frame Steel rectangular box
Caster Angle 25_
Front Suspension Marzocchi USD fork 40mm
Adjustment 120 mm, compression/rebound
Rear Suspension Cantilever swingarm, 124mm wheel travel stroke
Adjustment White Power, compression/rebound/preload- adjustable
Electrical System 25A x 14V alternator with 13 AH battery
Braking System Front Double disc floating, 320mm, Brembo Goldline
4 piston caliper
Braking System Rear Monodisc, 282mm, Brembo Goldline 2
piston caliper
Wheels Front: Brembo, cast, 3.50 x 17", Rear: Brembo, cast, 5.50 x 17"
Tires Front: 120/70 ZRó17", Rear: 180/55 ZRó17"
Fuel Capacity 5.5 gallons
Dry Weight 498 lbs.
Wheelbase 58.6"
Max Length 84.6"
Max Width 31"
Seat Height 31.4"
MSRP $12,690
Technical Specifications are subject to change without notice.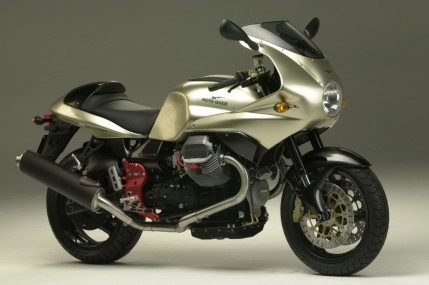 More Pictures
cv11lm2.jpg
cv11lm3.jpg
cv11lm4.jpg
cv11lm5.jpg
cv11lm6.jpg
cv11lm7.jpg
cv11lm8.jpg
cv11lm9.jpg


Main Page <> New Bikes <> Used Bikes <> Thrasher <> Parts <> Other Stuff <> Good Stuff
New Stuff <> Archival Stuff <> Sidecar Stuff <> Lots O' Links <> Order Info
epfguzzi@epfguzzi.com
888 EPF MOTO (3736686)