www.epfguzzi.com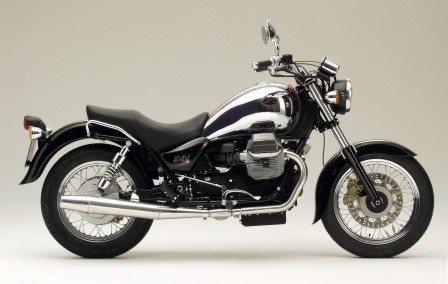 California Stone Metal
Essential and Precious Like a Gemstone.
Moto Guzziís appeal to youth is shown by the selection of new entry-level models that follow a precise philosophy. California Stone is the heir of the glorious Jackal, the essential bike, two wheels and a frame to dream and to travel free of everything. The special edition Stone Metal is a young bike for young people, and marks the easiest entry to the long-established world of the Guzzi California. It combines all the charisma of the California cruiser with a decidedly non-conformist soul.
This bike is minimalist in nature and hard like stone, without useless extras but with a hell of a lot of personality. The individualistic character of the special Metal version is demonstrated by numerous elements that differentiate it from the standard California Stone version.
The most evident sign is the coloring of the tank, from which this model gets its name ña refined "Chrome" finish that is not in contrast to the minimalism of the Stone, but if anything, it increases it with a touch of snob appeal. The graphics are new and fully blended with the clear personality of this bike. The clean, smooth lines of the Stone Metal find an ideal complement in the linear anatomical seat that can guarantee a comfortable trip for two anywhere you want to go. Your passenger can feel more secure thanks to the specially designed handles, since being hard as stone does not imply giving up comfort. For the same reason riders will appreciate the new side stand, more ergonomic and practical for quick and natural parking. The technology lovers, on the other hand, will appreciate the new adjustable suspension that enables you to always find the right setting for the road and weight transported.
Available Colors
Black with Chrome Tank & Red stripe
metal1a.jpg
metal2a.jpg
metal3a.jpg
metal4a.jpg




California Stone Metal Technical Specifications
Engine 90_ V-twin, air-cooled
Displacement 1064cc
Bore and Stroke 92mm x 80mm
Maximum Power 74 hp @ 6400 rpm
Maximum Torque 70 ft/lbs @ 5000 rpm
Fuel System Magneti Marelli IAW Multipoint phased sequential fuel injection
Ignition Magneti Marelli IAW electronic digital ignition
with inductive spark
Clutch Double disk, dry
Compression Ratio 9.5:1
Valves and Operation 2 overhead valves with light alloy push-rods
Starting System Electric
Lubrication Forced lube with geared pump and
pressure regulator
Transmission Primary: helical gears; Secondary: shaft drive
Gear Box 5 speed, constant mesh gears with built-in
cush drive
Frame Detachable tubular duplex cradle in special high- strength steel
Front Suspension 45mm telescopic fork
Rear Suspension Swing arm with 2 hydraulic shock absorbers
Electrical System 12V; 14V 25A alternator; 30Ah battery
Braking System Front: single Brembo ORO series stainless steel 320mm floating disc with Brembo 4 piston caliper
Rear: single stainless steel 282mm fixed disc
with Brembo 2 piston caliper
Instruments Speedometer with tripmeter
and warning lights
Wheels Front: 2.50 x 18", Rear: 3.50 x 17"
Tires Front: 110/90 VB18, Rear: 140/80 VB17
Fuel Capacity 4.9 gallons
Fuel Consumption 47 mpg
Dry Weight 541 lbs.
Maximum Speed 124 mph
Rake 28_
Seat Height 29"
Wheelbase 61.4"
MSRP $9,290
Technical Specifications are subject to change without notice.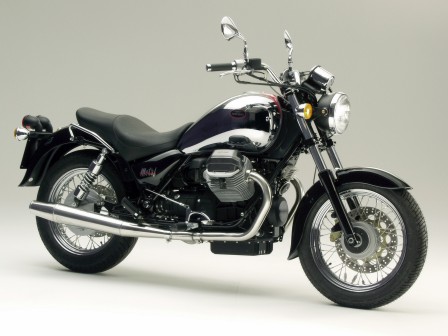 Main Page <> New Bikes <> Used Bikes <> Thrasher <> Parts <> Other Stuff <> Good Stuff
New Stuff <> Archival Stuff <> Sidecar Stuff <> Lots O' Links <> Order Info
epfguzzi@epfguzzi.com
888 EPF MOTO (3736686)