www.epfguzzi.com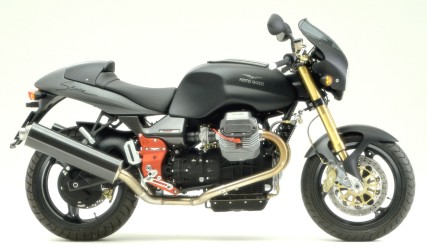 Moto Guzzi V11 Sport Scura
The Famous Moto Guzzi Sport Bike--Even More Aggressive.
The tough "all black" fairing of the new V11 Sport Scura is just an outside manifestation of the many technological additions to this bike. The sport bike par excellence of the Moto Guzzi line is introduced in an all-new version, with innovations to the suspension system, the front axle and the clutch, for improved steering precision and better performance on curves and an overall increase in riding comfort. The control is also "lighter" thanks to the new clutch with reduced reverse torque. The color is not the only modification to its appearance which has undergone a complete make-over.
In the technical details, a new Ohlins fork, with legs increased in diameter by 43 mm, is noteworthy. With the increase in diameter, the rigidity and efficiency of the absorption action increase, providing more predictable handling and impeccable entrance into curves. The change of the steering shock absorber goes along the same lines, and the directional hold in curves is ensured by the new rear shock absorbers, also Ohlins.
The liberal use of carbon fibre adds to the Scuraís hi-tech quality. The tank cushioning, ignition guard and mufflers are made of this material. This is not only a matter of appearance, as the carbon fibre elements contribute to reducing overall weight. The more aerodynamic rear-view mirrors are also new additions. The new matte black color and design of the sides, tail piece and the seat cover are especially alluring.
More Pictures:
scura1.jpg
scura2.jpg
scura3.jpg
scura4.jpg
scura5.jpg
scura6.jpg
scura7.jpg
scura8.jpg
scura9.jpg
scura10.jpg
scura11.jpg
scura12.jpg
V11 Sport Scura Technical Specifications
Engine 90_ V-twin, 4 stroke, air cooled
Displacement 1064 cc
Bore and Stroke 92 x 80 mm
Maximum Power 91 hp @ 7800 rpm
Maximum Torque 70 ft/lbs at 6000 rpm
Fuel Delivery Electronic fuel injection
Ignition CDI
Clutch Single disc dry, hydraulic system
Compression Ratio 9.5:1
Valves and Operation 2 overhead valves with light alloy push rods
Starting System Electric
Lubrication Forced
Final Transmission Shaftdrive, ratio 11/32
Gearbox 6 speed
Frame Steel rectangular box
Caster Angle 25_
Front Suspension Ohlins USD fork, 40mm
Adjustment 120 mm, compression/rebound
Rear Suspension Cantilever swingarm, compression/rebound/pre load adjustable
Adjustment 128 mm
Electrical System 25A x 14V alternator with 13 AH battery
Braking System Front Double disc floating, 320mm, Brembo Goldline
4 piston caliper
Braking System Rear Monodisc, 282mm, Brembo Goldline 2
piston caliper
Wheels Front: Brembo, cast, 3.50 x 17", Rear: Brembo, cast, 5.50 x 17"
Tires Front: 120/70 ZRó17", Rear: 180/55 ZRó17"
Fuel Capacity 5.5 gallons
Dry Weight 487 lbs
Wheelbase 58.6"
Max Length 84.6"
Max Width 30.9"
Seat Height 31.4"
MSRP $13,990
Technical Specifications are subject to change without notice.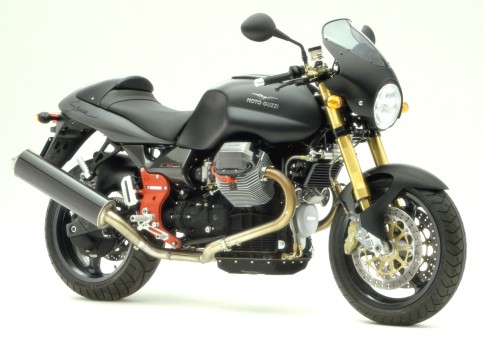 Main Page <> New Bikes <> Used Bikes <> Thrasher <> Parts <> Other Stuff <> Good Stuff
New Stuff <> Archival Stuff <> Sidecar Stuff <> Lots O' Links <> Order Info
epfguzzi@epfguzzi.com
888 EPF MOTO (3736686)