www.epfguzzi.com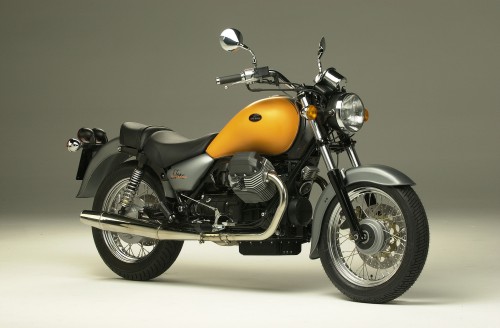 California Stone
Spartan and essential, the California Stone reflects an earlier generation of motorcycle design, when riders stripped everything they felt to be superfluous from a standard bike. The result was super-fast "bobbers", the ancestors of all of todayís cruisers. The California Stone is directly inspired by these bobbers ñ young, free and unconventional. It has a simple and essential back-to-basics character, rough, solid and strong --a temperament emphasized by the new model name, "Stone."
Excelling as both a "naked" motorcycle and a "build it yourself" touring machine, the California Stone takes the California series into a wider range of popularity. The California Stone captures an essential part of the entire market with its charm and flexibility. Its relatively low price makes it an entry point for many new younger motorcyclists as well as providing a highly versatile base model for those seeking a custom bike or city commuter.
The Stone features a number of innovations that are new to the Guzzi California model line. The handlebars are now 30 mm in diameter with new handgrips and electric controls to improve riding comfort. The gearbox has also been revised, with a reduction in shift throw and effort. Neutral is easier to locate and the lever rubbers are new and more efficient. Traveling is more comfortable, with modified calibration of the rear shock absorber (also equipped with new springs) and a new, more comfortable saddle. The frame and rear swingarm have been modified to allow a wider cross-section tire to be fitted. The side stand has been redesigned to make it more ergonomic and easier to position, with a new elegant cover. A new molding around the rear shock adds to its appearance.
Make no mistake: the Stone is a California in every way ñ reduced to the essential, but without losing even a hint of its charisma. The engine is still the legendary 90_ V twin, in its most recent incarnation. It is an engine with amazing torque ó70 ft/lbs at 5,000 rpm, setting the record for its class. The frame is the classic detachable tubular steel duplex cradle, for a rock-solid grip on the road. Two disk brakes, 320 mm at the front, 282 mm at the rear, provide superior stopping power.

Available Colors
Reflecting its name, the Stone is available in four color variations: Slate Black, Porphyry Grey, Flint Orange and Limestone White.
Accessories
Accessories include windshields in several sizes; a variety of panniers and saddlebags, tank bags, luggage carriers, upgraded shock absorbers, center stand, optional second front brake disc, alternative instrument cluster with added tachometer or seat options for either solo or two-up riding. Custom accessories include chrome accents for everything from the alternator cover to the rear shocks, alternate footpegs and custom grips or additional engine guards. For a full listing of accessories available for the California Stone, please see our accessories catalog or visit our web site at: www.motoguzzi-us.com.



California Stone Technical Specifications
Engine 90_ V-twin, air-cooled
Displacement 1064cc
Bore and Stroke 92mm x 80mm
Maximum Power 74 hp @ 6400 rpm
Maximum Torque 70 ft/lbs @ 5000 rpm
Fuel System Magneti Marelli IAW Multipoint phased sequential fuel injection
Ignition Magneti Marelli IAW electronic digital ignition
with inductive spark
Clutch Double disk, dry
Compression Ratio 9.5:1
Valves and Operation 2 overhead valves with light alloy push-rods
Starting System Electric
Lubrication Forced lube with geared pump and
pressure regulator
Transmission Primary: helical gears; Secondary: shaft drive
Gear Box 5 speed, constant mesh gears with built-in
cush drive
Frame Detachable tubular duplex cradle in special high- strength steel
Front Suspension 45mm telescopic fork
Rear Suspension Swing arm with 2 hydraulic shock absorbers
Electrical System 12V; 14V 25A alternator; 30Ah battery
Braking System Front: single Brembo ORO series stainless steel 320mm floating disc with Brembo 4 piston caliper
Rear: single stainless steel 282mm fixed disc
with Brembo 2 piston caliper
Instruments Speedometer with tripmeter
and warning lights
Wheels Front: 2.50 x 18", Rear: 3.50 x 17"
Tires Front: 110/90 VB18, Rear: 140/80 VB17
Fuel Capacity 4.9 gallons
Fuel Consumption 47 mpg
Dry Weight 541 lbs.
Maximum Speed 124 mph
Rake 28_
Seat Height 29"
Wheelbase 61.4"
MSRP $8,790
Technical Specifications are subject to change without notice.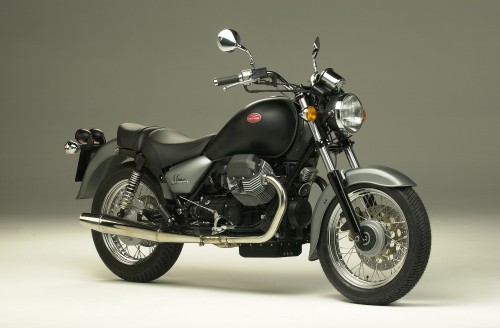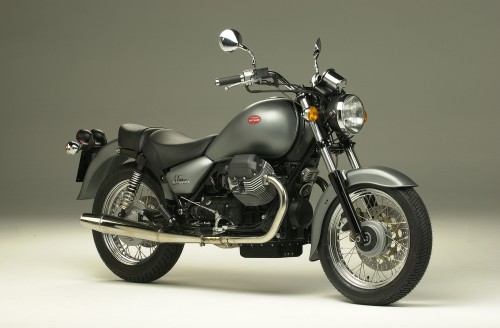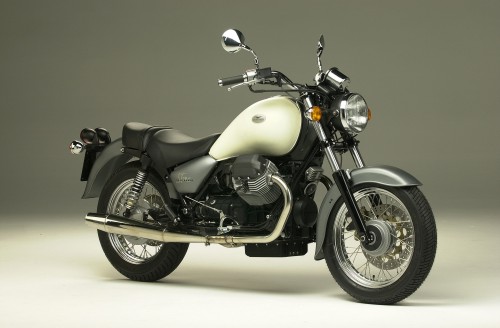 Main Page <> New Bikes <> Used Bikes <> Thrasher <> Parts <> Other Stuff <> Good Stuff
New Stuff <> Archival Stuff <> Sidecar Stuff <> Lots O' Links <> Order Info
epfguzzi@epfguzzi.com
888 EPF MOTO (3736686)