www.epfguzzi.com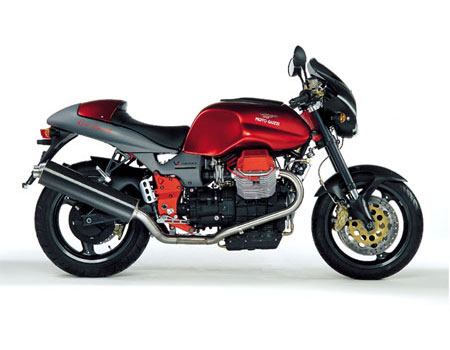 Technology and 80 years of tradition merge in the new V11 Sport Rosso
Mandello, the Moto Guzzi café racer
Red is the colour of the Italian sports car. And it is the colour that has always
marked the most successful Moto Guzzi motorcycles. The Le Mans were red, as
was the frame of the V7 Sport, all motorcycles that have sustained riders' respect.
As a reminder of this great tradition and to celebrate its 80th birthday, an
anniversary which falls in the year 2001, Moto Guzzi is introducing the new V11
Sport Rosso Mandello, a special edition and limited series of the latest and most
sporty model in the range.
Only 300 examples of the V11 Sport Rosso Mandello will be produced, all
rigorously certified and recognisable by a numbered plaque on the side panels.
This version is easy to recognise by a series of components which differentiate it
from the basic version. Typically racing features, made from carbon fibre, further
accentuate the successful contrast between tradition and new ideas.
The high-profile carbon fibre fairing means that the V11 is less bare and full use
can be made of its performance potential. The same material is used to make the
new front mudguard and the smart bridge on the instrumentation panel. Silencers
are also made out of carbon fibre, helping to make this a lighter and
higher-performance machine. A touch of exclusivity is provided by anodised
features which create a new chromatic effect. The frame plates which support the
footrests and the valve covers of the V-twin cylinders are anodised in red.
Being personalised in this way, the V11 Sport Rosso Mandello is able to bridge
the gap between those people who want the charm of a classic motorcycle and
those who want to be abreast of technological evolution. The engine plays a major
aesthetic role and is coupled to a compact and efficient gearbox which, by using
the technology used in Formula1 circles, has rapid, accurate and silent clutch
operation. This technological treasure can be found on all V11 Sports, but the
Rosso Mandello also has something new; the hydraulic clutch which is now fitted
with a single disc with sintered friction material.
To satisfy riders who take braking to the limit, the V11 Sport Rosso Mandello has
two disc brakes that are lighter and more efficient. No changes have been made to
other chassis elements. The Marzocchi cantilever swing-arm and the White Power
shock absorber remain.


Click Here to View Additional Photos
Technical Specifications
Engine Type: 4 stroke air cooled
Displacement: 1064CC, 90° V-twin
Bore/Stroke: 92mm x 80mm
Compression Ratio: 9.5 : 1
Max. H.P: 90 @ 7800 RPM
Max. Torque: 72 ft/lbs. @ 6000 RPM
Valve System: OHV with 2 valves per cylinder
Fuel Delivery: Electronic Fuel Injection
Ignition: Digital Electronic
Transmission: 6 speed with shaft and floating rear drive
Clutch: New Mono-disc clutch in sintered material
Charging System: 25A x 14V alternator with 13 AH battery
Frame: Chrome Moly rectangular spine w/ engine as stressed member
Suspension: Marzocchi 40mm, dual adjustable USD forks. WP rear mono shock
Instruments: Speedometer with tripmeter, tachometer and warning lights
Fuel Capacity: 5.5 US Gallons
Braking: Front: Dual 320 mm floating discs w/ 4 piston calipers, Rear: 282 mm disc
Tires: Front: 120/70 ZR 17 tubeless, Rear: 170/60 ZR 17 tubeless
Dry Weight: 472 lbs.
Seat Height: 31 inches
More Pictures
1 888 EPF MOTO (373 6686)


Main Page <> New Bikes <> Used Bikes <> Thrasher <> Parts <> Other Stuff <> Good Stuff
New Stuff <> Archival Stuff <> Sidecar Stuff <> Lots O' Links <> Order Info
epfguzzi@primenet.com
888 EPF MOTO (3736686)