www.epfguzzi.com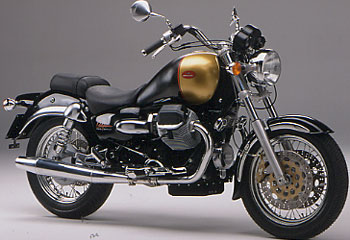 California Special Sport
Born to travel, the California Special Sport has a double soul. A comfortable touring bike, its true passion for speed is revealed in its gritty no-compromises design.
Innovations include the robust 30 mm diameter handlebars with handgrips and practical electric controls, now more ergonomic. On long trips, the rider and passenger can appreciate the modified calibration of the rear shock absorbers with new springs. Traveling is made even more comfortable by the better-padded saddle. Improvements to the gearbox are designed to make shifting even easier and lighter. The shift throw and effort are reduced and the neutral position is easier to find. Gear lever rubbers have also been replaced for a "gentler" and more sensitive action. The redesigned frame and swingarm leave more space for the rear wheel. Particularly practical is the new side stand, simpler to position for easier parking and with a new pivot cover. Finally, the new instrumentation mount is classical and elegant.
The heart of the bike is the same indestructible 90_ V twin that helped create the California legend. Other components--such as the unmistakable eagleís beak chromed profile mudguard and convex chromed side fairings --give this majestic cruiser an incomparable fascination.
The possibilities for customization are nearly infinite, with exclusive accessories that include chromed luggage rack and backrest, engine cover, pannier kit and leather top box.
The California Special Sport offers, as standard equipment, a braking system that no other motorcycle in this category can boast, all to the advantage of stability and safety. The front brake consists of twin Brembo ORO series stainless steel floating 320 mm discs with 4 differentiated piston calipers and a single 282 mm stainless steel rear fixed disc with a parallel 2 piston caliper.
The braking system includes Bosch brake proportioning and a delay valve. These devices act simultaneously on the front and rear discs, according to a predetermined cut-in curve, modulating hydraulic pressure in the relative circuits as a function of the load carried by the vehicle.
Available Colors
The Special Sport promises and delivers emotions as strong as its distinctive color combinations, new for 2002. In one color combo, the black contrasts and emphasizes the red, symbol of the Moto Guzzi sporty temperament. Teamed with gold, the basic black fortifies the refined and precious color.
Accessories
For touring purposes accessories include windshields in several sizes; a variety of panniers and saddlebags, tankbags and luggage carriers. Custom accessories include chrome accents for everything from the alternator cover to the rear shocks, alternate footpegs and custom grips or additional engine guards. For a full listing of accessories available for the California Special Sport, please see our accessories catalog or visit our web site at www.motoguzzi-us.com.
California Special Sport Technical Specifications
Engine 90_ V-twin, air-cooled
Displacement 1064cc
Bore and Stroke 92mm x 80mm
Maximum Power 74 hp @ 6400 rpm
Maximum Torque 70 ft/lbs @ 5000 rpm
Fuel System Magneti Marelli IAW Multipoint phased
sequential fuel injection
Ignition Magneti Marelli IAW electronic digital ignition
with inductive spark
Clutch Double disk, dry
Compression Ratio 9.5:1
Valves and Operation 2 overhead valves with light alloy push-rods
Starting System Electric
Lubrication Forced lube with geared pump and
pressure regulator
Transmission Primary: helical gears; Secondary: shaft drive
Gear Box 5 speed, constant mesh gears with built-in
cush drive
Frame Detachable tubular duplex cradle in special high- strength steel
Front Suspension 45mm telescopic fork
Rear Suspension Swing arm with 2 hydraulic shock absorbers
Electrical System 12V; 14V 25A alternator; 30Ah battery
Braking System Integral braking system with proportioning and delay valve consisting of: two Brembo ORO series stainless steel floating 320mm discs; with single rear stainless steel fixed 282mm disc; Brembo ORO series 4-piston front calipers; with Brembo 2-piston rear caliper
Instruments Speedometer with tripmeter, tachometer and warning lights
Wheels Front: 2.50 x 18", Rear: 3.50 x 17"
Tires Front: 110/90 VB18, Rear: 140/80 VB17
Fuel Capacity 4.9 gallons
Fuel Consumption 47 mpg
Dry Weight 552 lbs.
Maximum Speed 124 mph
Rake 28_
Seat Height 29"
Wheelbase 61.4"
MSRP $10,990
Technical Specifications are subject to change without notice.



Main Page <> New Bikes <> Used Bikes <> Thrasher <> Parts <> Other Stuff <> Good Stuff
New Stuff <> Archival Stuff <> Sidecar Stuff <> Lots O' Links <> Order Info
epfguzzi@epfguzzi.com
888 EPF MOTO (3736686)